CO-BLOCK(s) stands for multiple levels of sharing space – co-living, co-learning, co-playing, co-working and co-farming - combined within one multifunctional residential building in Bospolder Tussendijken (BoTu) neighborhood of Rotterdam. On larger scale, CO-BLOCK(s) relates to the local neighborhood and the city itself, offering novel spatial opportunities for communication and cooperation among various groups of previously estranged and vulnerable residents.


SOCIAL SYNERGY
An archetypal closed housing block found in abundance around the site is strategically porosified to introduce people, air, light and greenery throughout the site, and to offer gradients of shared spaces within the building that would act as a catalyst for local productivity. The building is composed of individual dwelling blocks distanced from one another to form continuous voids in-between. The dwelling blocks are minimal in size, containing one or two rooms, café-kitchen and bathroom, while the spaces between – the voids - are shared amongst two or more blocks. The voids act as a catalyst for social synergy - by providing spatial opportunities for social interaction and exchange of knowledge, skills and ideas between various residential groups and individuals.

SHARED OPEN SPACES
The blocks are arranged at full height on three sides facing the neighboring residential buildings, while they are cascading towards the Pier 80 community centre, already existing on the plot, and towards Park 1943 on the north and northwest side. This way, each residential floor gets its own large rooftop terrace, as an extension of the interior shared space. By cascading the building towards the north side of the site, sunlight is introduced deep into the block, over the rooftop terraces, while the apartments retain both direct sunlight in the morning and afternoon, and pleasant shade during the day. This ensures that with the new development the existing spaces of Pier 80 community centre on the north side of the site remain naturally lit during the day. New rooftop terraces as well as the flat roof of the existing community centre are extensivelly planted, and as such are suitable for various urban co-farming activities of the residents. All the apartments of an individual floor share its rooftop terrace for growing vegetables or socializing, while all the residents share large glasshouses on the roof of Pier 80 comunity centre. This way, Park 1943 is extended into the block on different heights. The new development is organized in four individual, but physically connected buildings, allowing for the implementation to be planned in several phases.
CIRCULAR & SELF-SUSTAINED COMMUNITY
All buildings are connected amongst each other and with Pier 80 community centre via raised platforms on two levels. The platforms form a semi-public open space and offer direct access to some of the apartments, making them more suitable for home offices or co-working initiatives, where clients' entrance is separated from the resident's entrance. Ground floor along with the entire Pier 80 centre is open to wider neighborhood via rich program encompassing recreation, education, crafts and cultural events. Large gymnasium and a market hall are located on ground level, while an open stage, basketball court and garden centre are on the roof of Pier 80. Bringing various types of activities closer together initiates exchange of knowledge and ideas, as well as sharing and re-using resources, which ultimately leads to a circular and self-sustained community. Pier 80 community centre is integrated within CO-BLOCK(s) housing complex, as an important part of local tradition and a potential initiator of the new program on site in the future. While adding new life to Pier 80, the new development aspires to create a more intimate and secure central plaza - a new heart for BoTu neighborhood.
SUSTAINABLE SYSTEMS - 'FIT-ENVIORNMENTS'
Stepping roofscape allows for a variety of sustanable systems to be implemented in CO-BLOCK(s). Highest rooftops collect energy from the sun and wind, which can then be used for lighting public areas and shared terraces. Rainwater harvesting system is developed along the cascading roofs - all the water collected on higher points is used for watering gardens on lower floors and for technical water in collective spaces. Organic waste from the apartments is composted and used as soil conditioner for the gardens. Detached blocks structure allows for free air flow throughout the apartments, helping the building ventilate and cool naturally to save energy consumption.
MULTIPLE TYPES OF RESIDENTS & GRADIENTS OF PRIVACY
Complex mix of residents and program asks for careful treatment of their mutual connections, which is why the project obtains a rich gradient of privacy throughout the spaces, on 6 distinct levels. LEVEL 1 - Individual dwelling block offers most private level of sharing between people – sharing a bed, a bathroom or a toothbrush – this is translated from traditional concept of a family home. LEVEL 2 - Continuous interior voids between the blocks offer spaces for sharing a kitchen, a living room, a playroom or an office between more residential groups, either singles, couples, families or seniors. This is based on a co-living concept of collective housing, where, on a basic level, various groups of residents share utilities, common rooms and expanses for a larger space at a better city location than they could individually afford. On a higher level, this cooperation between residents has the potential to initiate sharing activities, helping each other (for example babysitting kids, or teaching maths), or ultimately sharing ideas and goals – producing something together (shared business, winter garden, learning together or forming local initiatives). These voids can optionally be divided in more smaller groups, depending on individual needs – varying from one large shared space between adjoining blocks to individual traditional 1 or 2-bedroom apartments with living area within the void. LEVEL 3 - Large terraced roof gardens are shared by more apartments on the same floor and can be used as community terraces for socializing and recreation, or for cooperative urban-farming initiatives, leading to self-sustained communities, and healthier living routines.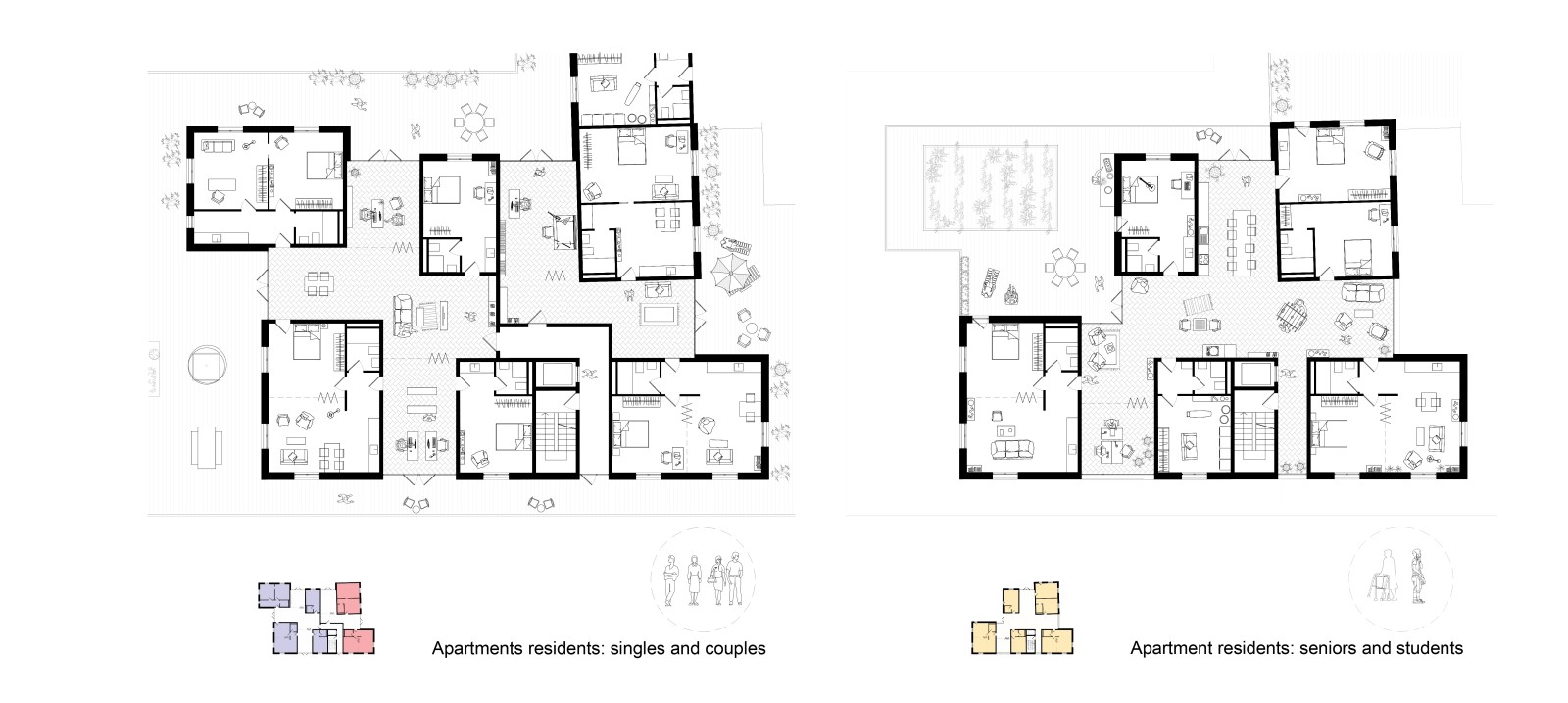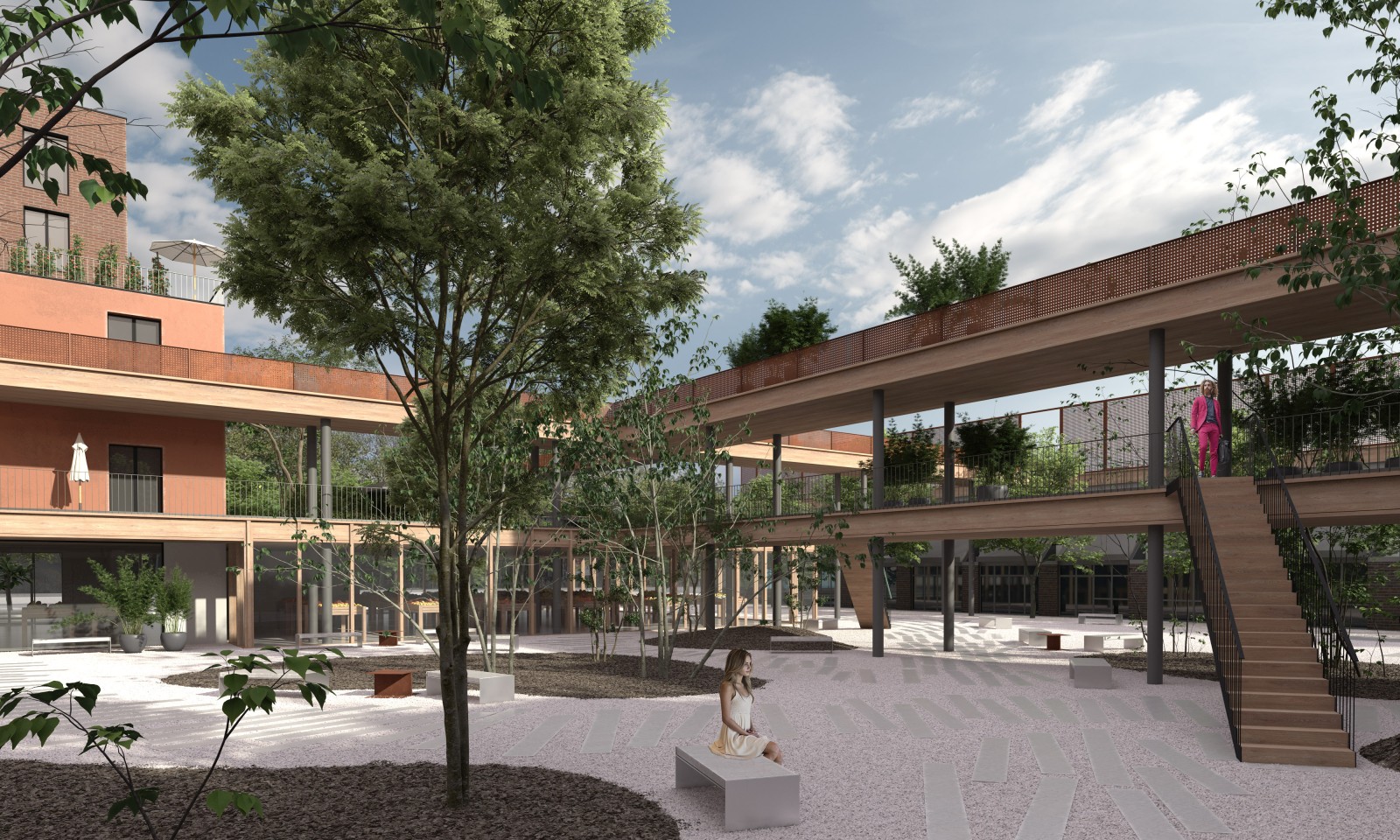 SHARING KNOWLEDGE & RECOURCES
LEVEL 4 - Elevated platforms on first and second floor offer semi-public communication areas, where local residents meet wider city population. These platforms offer directs outside access to some of the apartments, making them more suitable for developing home offices and forming shared business initiatives. LEVEL 5 - Ground level with greatest accessibility is shared with wider community and composed as flexible space shared amongst multiple programs (market, workshops, recreation, library at Pier 80). Open blocks can optionally be enclosed for individual businesses or workshops, or can all be joined together in one continuous shared space (for example on open market days). LEVEL 6 - Inner courtyard creates a public shared space, as a continuation of Park 1943.